Facebook
Please note: New social media accounts (including Facebook Pages and Facebook Groups) fall under Western's New Social Media process, in partnership with your Communications Officer and the Western Communications.
---
Page or Group?
Facebook Pages are a public marketing tool created by Facebook for schools, companies, and brands. The Western University Facebook Page reaches more than 100,000 students, faculty, staff, alumni and Londoners per week with photos, videos, links and messages. Many departments, businesses and projects on campus that want to engage a public audience have their own Facebook Pages, created with the Communications Officer for their Faculty or Department.
Pages
Pages include the following:
Pages are meant for organizations, causes, communities, businesses, celebrities, brands, etc. to connect with people who "like" them
Pages can only be created and managed by official representatives of the organization
Anyone can view the information and posts on the Page
Anyone can "like" the Page and receive updates. The number of "likes" one page can have is unlimited
Page admins (Facebook logins) are needed to share posts and create customized apps, and to track the Page's growth and activity
Groups
Facebook Groups allow people with a shared interest or connection to stay in touch with each other, similar to a mailing list. They can be public or private.  Western creates a new group for each year of incoming undergraduate students, and many other clubs, organizations, classes and initiatives on campus have also created groups in order to stay in touch with each other or create a closed conversation on Facebook.  Groups are best when your members will be leading the organization, rather than you - they are more of a communication tool than marketing and they can be very powerful when used in the correct situations.
Groups include the following:
Groups can provide a private space for communication & sharing
Groups allow for more privacy settings allowing posts and other information visible only to members
Group members receive notifications by default when another member posts in the Group
Group members can participate in chats, upload photos to shared albums, collaborate on Group docs and invite members who are friends to Group events
---
Terms & Conditions
By creating a Page or Group, you agree to comply with Facebook's Terms and Conditions. It is important to note that postings by fans to Western's Facebook Pages do not necessarily reflect the opinions of Western, nor does Western confirm their accuracy.

On Facebook, as on Western's campus, we welcome all questions and commentary, including constructive feedback. We expect that participants post content and commentary that is both relevant and respectful to this community as a whole. Know that we don't take to moderating posts all the time, but we do reserve the right to remove any posts that are:
Abusive, harassing, stalking, threatening or attacking others
Defamatory, offensive, obscene, vulgar or depicting violence
Hateful in language targeting race/ethnicity, religion, gender, sexual orientation, nationality political belief, etc.
Fraudulent, deceptive, or misleading posts
Trolling or deliberate disruption of discussion
Spamming in nature
Any type of commercial solicitation
(top)
---
Creating a Facebook Page

Step 1: Choosing a Page Name
*This is permanent and cannot be revised - ensure your name considers search terms and branding and has been approved by key stakeholders.
Your Facebook Page Name determines whether your Facebook Page can be found using Facebook Search and also strongly influences whether or not your audience will like your page and its posts.  Facebook Page Names are permanent and, to be an official Western Facebook Page, must follow an exact naming standard of "Department - Western University." Because Facebook Page Names are so important and permanent, your Communications Officer must be involved in choosing your Page Name and they will also review the name with Western Communications before setting it up.
Correct Western Facebook Names:
Civil Engineering Program - Western University
Faculty of Information & Media Studies (FIMS) - Western University
Incorrect Western Facebook Names:
Civil Engineering Program, Western University (Must be end with " - Western University")
Civil Engineering Program - Western (Must be end with " - Western University")
FIMS - Western University (Include both full spelling and acronym to be visible in search)
Step 2: Creating a Short URL
*This is permanent and cannot be revised - ensure your URL follows the Western standard outlined below.
Facebook lets you set up a short, easy to type URL such as facebook.com/westernuniversity so that your fans can remember how to find and like your page. To make it as easy as possible, and also to keep things simple in email signatures and in print, we ask that you make this the same as your Twitter username. Please see the Username section of our Twitter page and remember, it has to start with westernu and be 15 characters or less.  Please do not hesitate to contact your Communications Officer or social@uwo.ca to talk about your username before setting it up.
Correct Western Facebook URLs:
facebook.com/westernuReg
facebook.com/westernuArts
facebook.com/westernuASB
Incorrect Western Facebook URLs:
facebook.com/westernReg (must be westernu not western)
facebook.com/WesternUReg (westernu should be all lowercase)
facebook.com/westernuARTS (only the first letter of words should be capitalized)
facebook.com/westernuAsb (acronyms should be completely uppercase i.e. BMI)
Step 3: Create & Upload Display Image
Western's Social Media Advisory Group and the Western Communications have created a display image template to be used on all Western social media accounts. This file will require Photoshop as well as a photo that represents your department or project. Please contact social@uwo.ca if you would like to work with Creative Services to have a display photo created for you.
Download: Display Image Template (.psd file)
Step 4: Create & Upload Cover Photo (Banner)
Photos make the most effective banners for Facebook Pages.  If you have a great photo that you can use, you can upload it to your Facebook Page the way you would with your personal Facebook Profile.
If you require a banner that includes text, please use our Western Cover Photo template. This file will require Photoshop as well as a photo that is at least 567 pixels wide and 351 pixels high. Please contact social@uwo.ca if you would like to work with Creative Services to have a cover photo created for you or if you require a photo that you can use in your cover photo.
Download: Cover Photo Template (.psd file)
Step 5: Fill in your information & links
After creating your Page or Group, consider including the following important information: 
About - write a description or outline the mission statement for your organization, business, etc.Website - include your primary web addresses if available, and please add westernu.ca as wellLocation - include a full mailing address (the map and directions will break unless you enter a working mailing address) Contact - phone number, email address Other information you can include is pricing, founding date, product information, maps, awards, history, etc.

Step 6: Page Admins
Only managers can edit admins for a Page. To add another admin to your Page:
At the top of your Page, click Edit Page
Select Admin Roles
Type the names of other people you'd like to add in the open field
Click Manager below the name to choose what kind of admin you want to add
Click Save Changes
To change what kind of admin someone is, follow the steps above but skip step 4. You'll need to enter your password to confirm the change.
If you would like to give Communications access to your Facebook Page for support, please add facebook@uwo.ca as an admin.
---
Profile Pictures & Cover Photos

Official Western Facebook Pages and Groups use a special Photoshop template to help us look like a family and make it easy to tell whether a page is official.  The template below will require Photoshop. Please contact social@uwo.ca if you would like to work with Creative Services to have these assets created for you. 
Download: 
Fixing the Mobile Cover Photo:
1.09 billion people use Facebook via mobile phones on a daily basis. If you upload a cover photo to your Facebook Page via a computer, it will appear distorted and cropped for all of these people.
To avoid this issue, use the Facebook Pages Manager application on your smart phone to upload new cover photos - do not use your computer. Avoid text in cover photos.
---
Posting & Messaging

Posting on your Page
Page admins can inform those who like your Page by using the sharing tool at the top of the Page's timeline. Actions like updating your status, asking a question, posting photos, sharing links will appear on the Page's timeline as well as in the news feeds of those who have liked the Page
Targeting your Page posts
By adding targeting options to your posts, only the most relevant people will see them in their news feeds; however, it does not affect who can see the post on your Page. Read more about this subject on Facebook's Help Site.

You can moderate what people post to your Page by adding comma-separated keywords to the moderation blacklist in order to prevent them from appearing on your Page. Blacklisted keywords in a post or comment will be automatically marked as spam. On Facebook.com: "How can I proactively moderate content published by visitors on my Page?"
--
If you're a group admin, you can remove posts in your group:
Click the X next to the content you want to remove.
Select "Remove Post" to delete the post. Choose Mark as Spam or Report as Abuse to report a spammy or abusive post to Facebook.
A group admin can also remove or ban a member from the group:
Click on the About tab
Find the member you want to remove by scrolling through the page or by searching for them
Click the X next to the member's name and then click Confirm

Removed members will have to request to join the group again if they wish to rejoin. There is the option to check the box that says Ban Permanently so banned members won't be able to find the group in search or see any of its content. They also can't be added to the group again by members.

(top)


---
Captions & Accessibility

It is important to upload closed captions for your videos. 
Option 1 (Recommended):
Upload your video to your department or Faculty Facebook Page as a new video post.
Let Facebook automatically generate captions for your video and then edit them to correct mistakes.
Download the SRT closed caption file from your Facebook Video. (Screenshot below).
Upload your video to YouTube, including the SRT closed caption file from Facebook.
Now your video is live and has closed captions on both websites.
Option 2:
Use YouTube's closed caption tool. This means your video is only on YouTube - and not on Facebook - and you cannot export the YouTube closed captions and upload them to Facebook later. 
Please do not post YouTube links on Facebook.
Below: Where to find the SRT download option on your Facebook Video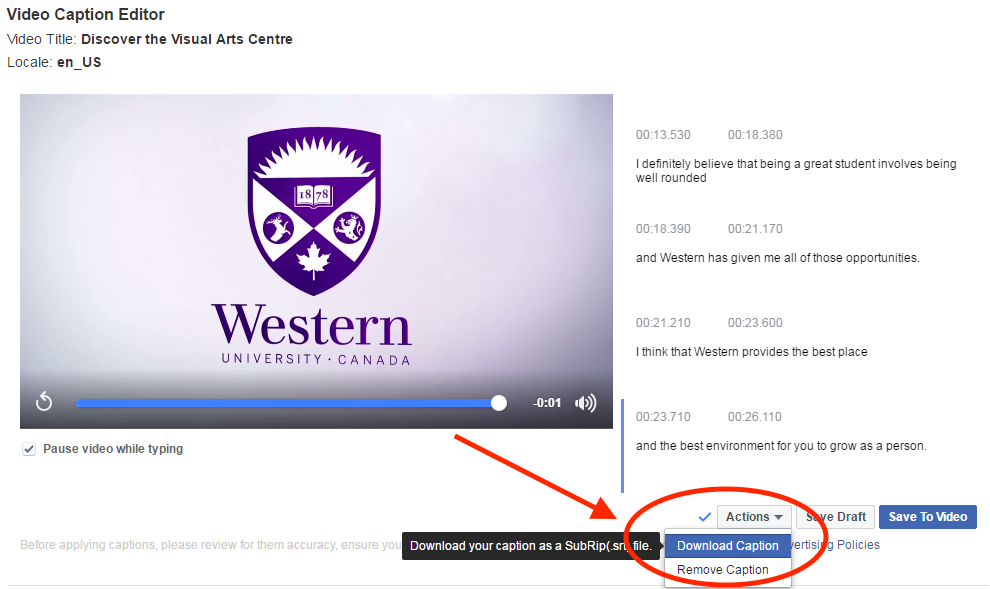 (top)
---
Events
For Pages
You can create new events from the events app below your Page's cover photo. If you don't see an events app, go to it from your Page's settings:
From the top of your Page, click Edit Page
Select Update Info
From the left column menu, select Apps
Under Events, click Go to App

From the events app, click Create Event in the top right corner.
--
For Groups
To create an event for your group, go to the group and click on the upper right side of the page. Then select Create an Event from the dropdown menu. You need to be an admin to create an event in a large open group. Fill in important Event information.

To invite your entire group to an event, click Invite Members in the event creation window. Again, you must be a admin to do this.
(top)